Sour fish curry/ " Malu Ambulthiya"
It is unique and very fascinating tang in Sri Lanka due to its unique spicy flavor with thick gamboge. It is a popular fish dish of a fish steak in a sour curry sauce. Since this is made out of gamboge and black pepper, it not only gives the unique taste of the dish but is also a method of preserving it. Yellowfin tuna, skipjack tuna, sailfish, are frequently using fish to prepare this curry. `Goraka` which is also known as brindle berry is the key taste that brings subtle sourness of the tang.
Potato Curry/ "Ala Hodi"
Here, on thick coconut milk potatoes are well cooked after boiling. It is known for its nutritious value and the tastiness. This is a Sri Lankan dish that is a staple at lunchtime. It is vegan, vegetarian, and gluten-free. This is good for toddlers and kids who are just being introduced to regular family meals. It is a perfect adjunct for the spicy dish that gets served in our country.
Sri Lankan Dhal curry
It is one of the most consuming staple dishes in our society. Usually "Masoor" dhal, which are red lentils are cooked in a blend of spices and coconut milk is added to create a rich stew. This dish is all-pervasive in Sri Lanka as this can be served with every main meal (rice or bread). 
`Achcharu` 
Pickles or "achcharu" as it's known in Sinhala, is a vehement flavor food item is the perfect accompaniment for most meals. Since the past pickles have made headway into something more than just another side dish with fruit-based pickles being some of the most loved street food in our country. First and foremost pickles are fermented fruits or vegetables in either acidic or salt solutions, to build up an environment that prevents bacterial growth and making it last longer. Due to its simplicity and effectiveness, throughout antiquity, many cultures have been used pickles. Green chilies, onion, and mustered cream are some ingredients that have been using to add flavor to this dish. Most famous pickles in Sri Lanka are Malay Pickle, Lime Pickle, and street food pickle.
Hoppers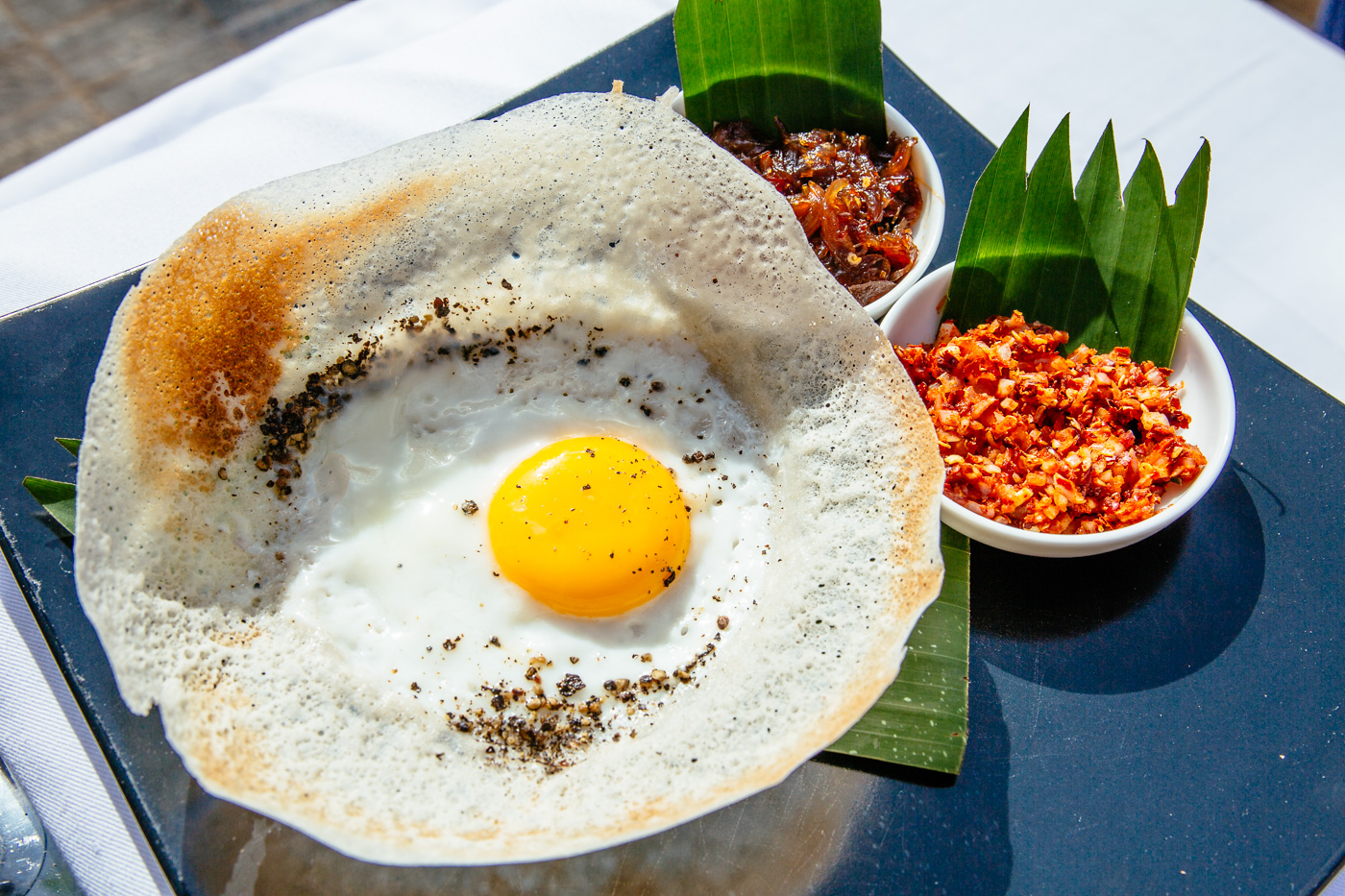 Rice flour is used to make crispy, bowl-like hoppers (pancakes) which suits for breakfast and dinner. In roadside shops, these crispy hoppers are usually sold and even infamous restaurants across Sri Lanka. If you had a chance to engage in a long voyage, you`ll be able to taste a variety of hoppers which is in either sweet or savory taste. There are varieties of hoppers such as plain hoppers in a bowl shape, egg hoppers which comes with a fried egg, milk hoppers which are made by using coconut milk or cream, crispy honey hoppers pancakes with palm treacle or jaggery and string hoppers which are made from rice noodles curried into flat spirals. These are normally used for breakfast or dinner along with coconut sambal, "kirihodi", fish, or meat curry. 
Roti
This is a quick food item and easy to prepare using wheat, rice, or "kurakkan"flour. Flour is mixed with grated coconut and then it is touched with cooking oil. Later it is baked on a hot griddle in thin flat cakes. This tang is served with chili relish or syrup. Also you`ll come across with Sri Lankan roti as a street food or tea time snack at stationary carts and restaurants. 
Pittu
This is a dish that is made from coconut and rice flour. This taste is derived from the Kerala region of India and is known for "puttu" or "putu". Usually "pittu" is being served for breakfast in Sri Lanka but nowadays it also has eaten for dinner as people are rushing to work and school in the morning and the lack their time of long leisure breakfast. Cylinder tube of the "Pittu" steamer is used to prepare this dish. "piitu" is eaten along with chili relish or fish/meat curry.
Milk Rice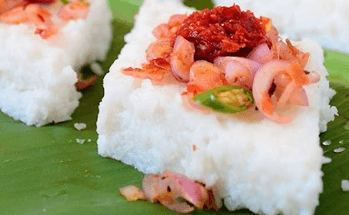 It is a traditional and festive dish made from rice and frequently milk rice is used at auspicious moments like Sinhala and Tamil New Year. It is an easy breakfast dish that is cooked with rice and coconut milk and served with chili relish or syrup. This ushers in every special moment in Sri Lanka like on New year celebrations, Independence day, before an exam and so on.
Apart from these items, some juicy sweetmeats are unique to our culture and these are normally used on special occasions like New Year Festival and any other auspicious time.
"Aluwa"
A sweet, mainly famous during the Sinhala and Tamil New Year season and this provides a chance to taste a delicious traditional food dish. This is made from rice flour, sugar and cashew nuts. And these are served in a flat cookie-like form.
"Kokis"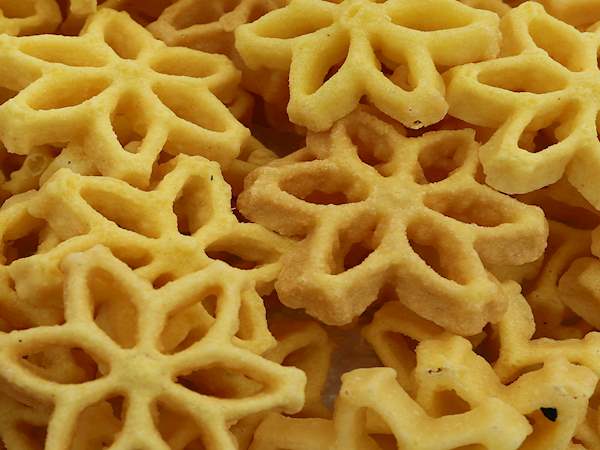 This is a deep-fried crispy native food made from rice flour and coconut milk. This traditional savory treat embellishes the New Year table. Surely, this is the first treat that kids grab onto and look forward to when they get a tray of New Year treats. `Kokis` may be eaten as a dessert but also it can be consumed as an appetizer or snack. Usually it is served with milk rice and other traditional sweetmeats `kokis` contains a high energy-density and it is a very nutritious snack.
"Kavum"
These are a kind of oil cakes and it has fabled alluring powers. These can adore someone with passion even though he/she dislikes oily things. This is a dish that symbolizes the Sri Lankan-ness. Each "kevum" must fry with individual care in deep oil. Rice flour, sugar, `Kithul` treacle, coconut milk are some major ingredients of this sweetmeat. This is also a famous sweetmeat dish during New Year seasons.
There are various types of these oil cakes such as `Konda Kevum`, `Naran Kevum`, `Thala Kevum`, `Undu Kevum`, `Mun Kevum` and `Handi Kevum`. In all these types basic `Kevum` mixture is used ad additional ingredients are added to elevate the quality and the relish.
"Kalu Dodol"
This is a gel-like candy made from jaggery, coconut milk, and rice flour and it is believed that this taste was derived from Malaysian immigrants to Sri Lanka. "Kalu Dodol" is traditionally made and eaten in April, during Avurudu, the Sinhalese New Year celebrations, and also in many special occasions.  
South region i.e. Hambanthota is perhaps most famous for being the major city of "Kalu Dodol" preparation because there is a well-established thriving trade of preparing and selling these sweetmeats to pilgrims making their way to nearby Kataragama which is a sacred place for Hindus.
"Welithalapa"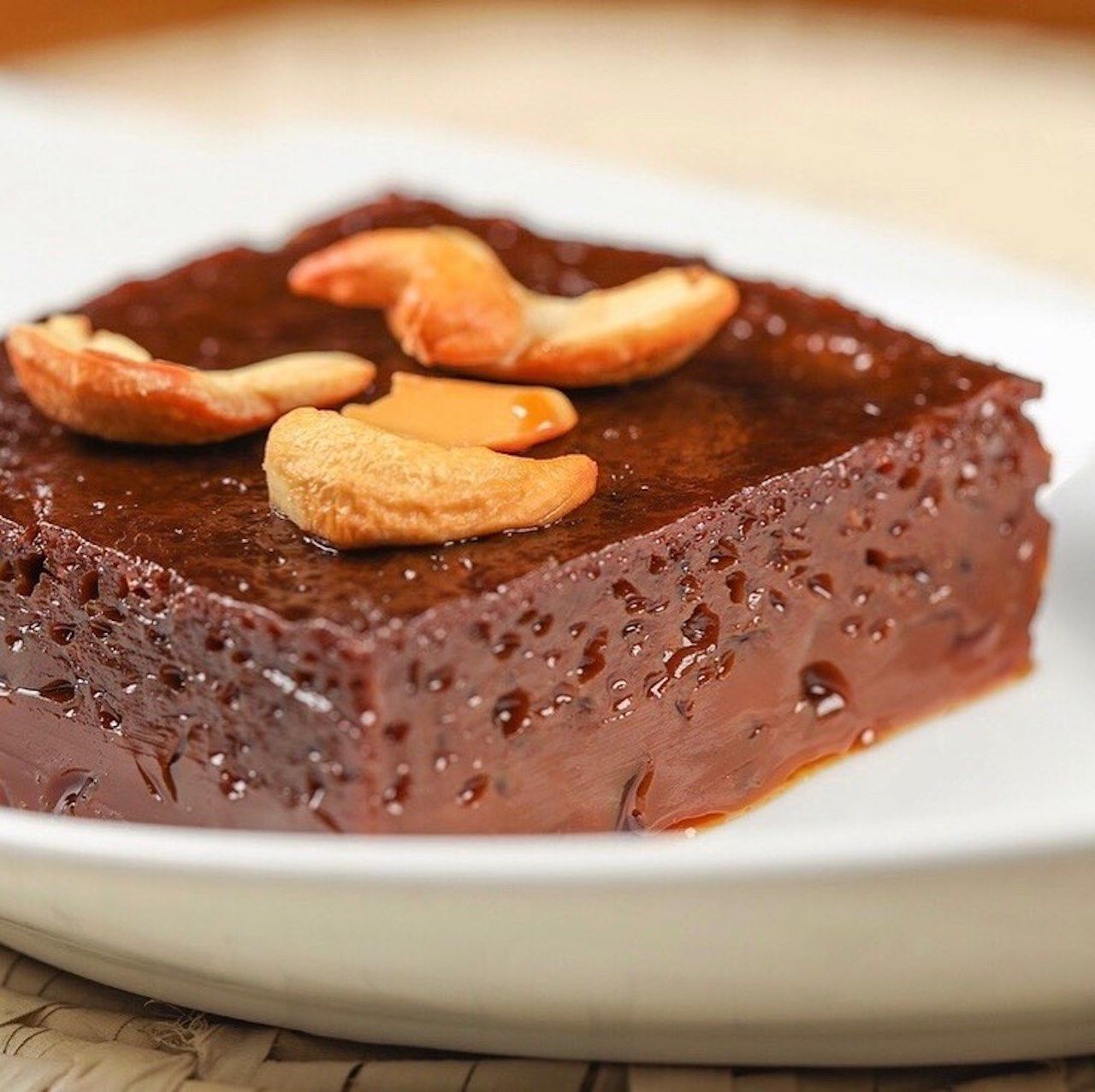 This is an energy-rich sweet delight and is made from treacle, rice flour, and coconut as the main ingredients. This is also known as "Saw Dodol". This also a sweetmeat that is frequently prepared during the `Avurudu` season and kids are always looking forward to these dishes on the New Year table.
Milk toffees
In Sri Lanka, milk toffees are prepared frequently in almost every auspicious or in any special ceremony. It is known as "Kriritopi" in Sinhala and it has a soft texture and sweet, caramelized milk tang. Each family member loves to eat these sweet toffees besides their age. Sweetened condensed milk, sugar, butter, vanilla essences are major ingredients of milk toffee mixture. Sometimes cashew nuts and cardamoms are added to it additionally to elevate the taste. 
Not only are these but there a wide range of cultural food in Sri Lanka which initiates the watering of mouth for sure. By shaping many historical, traditional aspects, Sri Lankan foods are prepared using the abundant vegetation in the country. So let`s value this piquancy proudly.